Journal "Health Risk Analysis"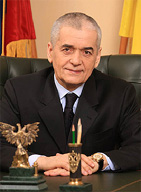 I have the honor to present a new Journal – a research to practice publication entitled "Health Risk Analysis", which aims to disseminate information on new scientific developments in the fields of human health risk assessment and management as well as successful experiences in ensuring the health and epidemiological well-being of the population of the Russian Federation, using the internationally recognized risk analysis methodology.
The scope of the Journal includes issues concerned with the theory, methodology and practice of environmental, occupational, social and other health risk assessments and management along with current methods for social and environmental health monitoring and for assessing exposure to chemical, biological, physical, and other factors, problems and prospects of risk analysis in control and supervision, health and epidemiological standardization and inspection.
The Journal also publishes articles on issues which include analytical chemistry methods for the identification of hazard factors of various origin, current approaches to the early diagnosis of health disorders related to exposure to harmful environmental factors, methods for modeling and forecasting phenomena and processes, and software developments, etc.
The Journal's target audience is researchers, professionals from the practical system of the Federal Service on Customers' Rights Protection and Human Well-Being Surveillance, specialists from ministries and departments, research institutions of the Russian Academy of Medical Sciences, employees of industrial companies, building managers who ensure the compliance with hygienic and epidemiological standards, municipal and national administration professionals, students, postgraduate researchers and civilian activists.
The publication complements such well recognized journals as "Hygiene and Sanitation", "Public Health in Russia" and "Human Health and Environment" amongst others.
We invite all concerned parties to contribute to the Journal and we hope that the research to practice Journal "Health Risk Analysis" will be of interest to, and useful for, a broad spectrum of researchers and experts in the fields of ensuring the health and epidemiological well-being of the population and of customers' rights protection across the Russian Federation.
Professor G.G. Onishchenko, Editor-in-Chief,
Fellow of the Russian Academy of Medical Sciences, DSc in Medicine